Is DeFi bubble bursting already?
Biggest DeFi concerns of the week, NFTs at Christie's, first bitcoin ETF and more
While DeFi is raising more and more questions and eyebrows, NFT space is knocking on the doors of the world's biggest auction houses. In this issue of Twice the Value we are looking under the hood of both these phenomena, as well as:
The first Bitcoin ETF (finally!)

Big step for stablecoins adoption: U.S. national banks are now officially allowed to hold reserve currencies for stablecoins (whose value, in the meantime, exceeded $20 billion)

EU's plan to regulate cryptocurrencies (but we'll have to wait until 2021)
Here we go:
ICO legacy continues to haunt DeFi
Following the downtrend on crypto market, many popular DeFi tokens dropped by up to 50% this month. Naturally, it raised many questions: can the space be called legitimate at all? Has DeFi bubble already bursted? Naturally, ICO is the comparison everyone is turning to, and most of the times it's not flattering.
What raises questions?
Immediate profits instead of long term governance. Yield farming is designed to reward active participants with a voting rights – that's why DeFi projects distribute rewards in the form of governance tokens. Yet, while many yield farmers are making vertiginous 500% returns, only 11% of them actually participate in governance. According to CoinGecko Yield Farming Survey, 32% are farming governance tokens to sell immediately and 54% are holding them.

Questionable level of decentralization. DeFi protocols are meant to be completely decentralized, yet teams of 12 out of 15 most popular projects still have access to a "God Mode" admin key – the same one that SushiSwap's Chef Nomi used to withdraw $13 million to his own benefit.

Regulatory issues on the horizon. In the last week's issue of Twice the Value we discussed Uniswap's Airdrop and possible consequences if UNI token will be considered as a security.
While all these questions are valid, leading experts and influencers in crypto space are divided in camps:
YouTube host and trader Tone Vays says that yield farming is even lazier than ICOs, as you don't even need to bother writing a white paper.

Choosing a middle ground, Pavel Kravchenko of Distributed Lab writes in a LinkedIn post that "a new era of penny stocks is coming, but with some advancements".
However, DeFi has it advocates, too. In his Twitter post Gemini co-founder Cameron Winklevoss disagrees:
You can choose your camp – and use the tools other market players have put together for due diligence on this nascent market. We recommend to pay attention to DeFi Firewall, which is basically a guide for institutional players on DeFi protocols and decentralized exchanges Trustology (wallet and custodial technology provider) consider legit.
If you know other tools and life hacks for DeFi due diligence, let us know!
NFTs make their debut on Christie's
Being auctioned off Christie's is a remarkable achievement for any contemporary artist. When one of the world's leading auction houses is set to sell an NFT, that's when we know that traditional art market is taking digital art with blockchain-based ownership rights seriously.
One of forty painting's from Benjamin Gentilli's "Portrait of a Mind" series (described as the largest artwork ever to commemorate the history of Bitcoin) will be sold on "Post-War and Contemporary Day Auction" on October, 7 in New York. Other owners of paintings from the series include Binance founder Changpeng Zhao and Bloq chairman Matthew Rozsak.
Bullish trend on NFTs is promoted by Morgan Creek's Anthony Pompliano, who predicts a 6,000x surge in market cap for digital art.

However, it's not only rainbows and butterflies. Another big use case for NFTs, gaming collectibles, has witnessed obstacles in South Korea: Game Rating and Administration Committee postponed the release of Five Stars, a game based on tech giant Kakao's Klaytn blockchain – all because of its non fungible token-based game economics.
According to South Korean law, unrated games can't be circulated in the country. The fact that NFT-based collectibles that can be sold for crypto raises regulatory concerns.
More on regulation
As the number of people holding crypto worldwide skyrockets, surpassing 100 million (estimate of Cambridge Centre for Alternative Finance), financial institutions and regulatory bodies can't help paying attention.
Here are some recent news:
"The future of finance is digital," but let's wait for another year at least, says European Commission
EC has finally proposed a plan to regulate cryptocurrencies (though it's been so long). The new plan suggests that crypto firms authorized by one of the 27 EU countries will be able to provide its services across all the other member states. However, it may take more than one year before these proposals are implemented, meaning that the regulatory uncertainty will remain.
BTW, Ripple, ConsenSys, and Iota, among other firms, have already expressed their criticism over the initiative, saying that it could cripple the developing market and even deny EU citizens access to DeFi services.
The world's first Bitcoin ETF comes from an unexpected source 
Although the SEC has denied dozens of Bitcoin ETFs over the past few years, this financial product might finally see the light of day. Regulated Brazilian fund manager Hashdex has teamed up with Nasdaq to launch the world's first crypto asset exchange-traded fund on the Bermuda Stock Exchange (BSX).
Stablecoins for everyone (except for ECB)
According to the new guidance released the U.S. Office of the Comptroller of the Currency, national banks are now officially allowed to hold reserve currencies for stablecoins. That's exactly what the European Central Bank should be doing. Earlier this week, the institution has warned the global community about the risks of so-called "stablecoin runs", saying that they can occur if end users lose confidence in the issuer or its network. They also said the term "stablecoin" should be replaced with something less "confusing" or potentially "misleading".
BTW, this week the total value of assets for all stablecoins crossed the $20 billion mark, just four months after the number broke a $10-billion record in May!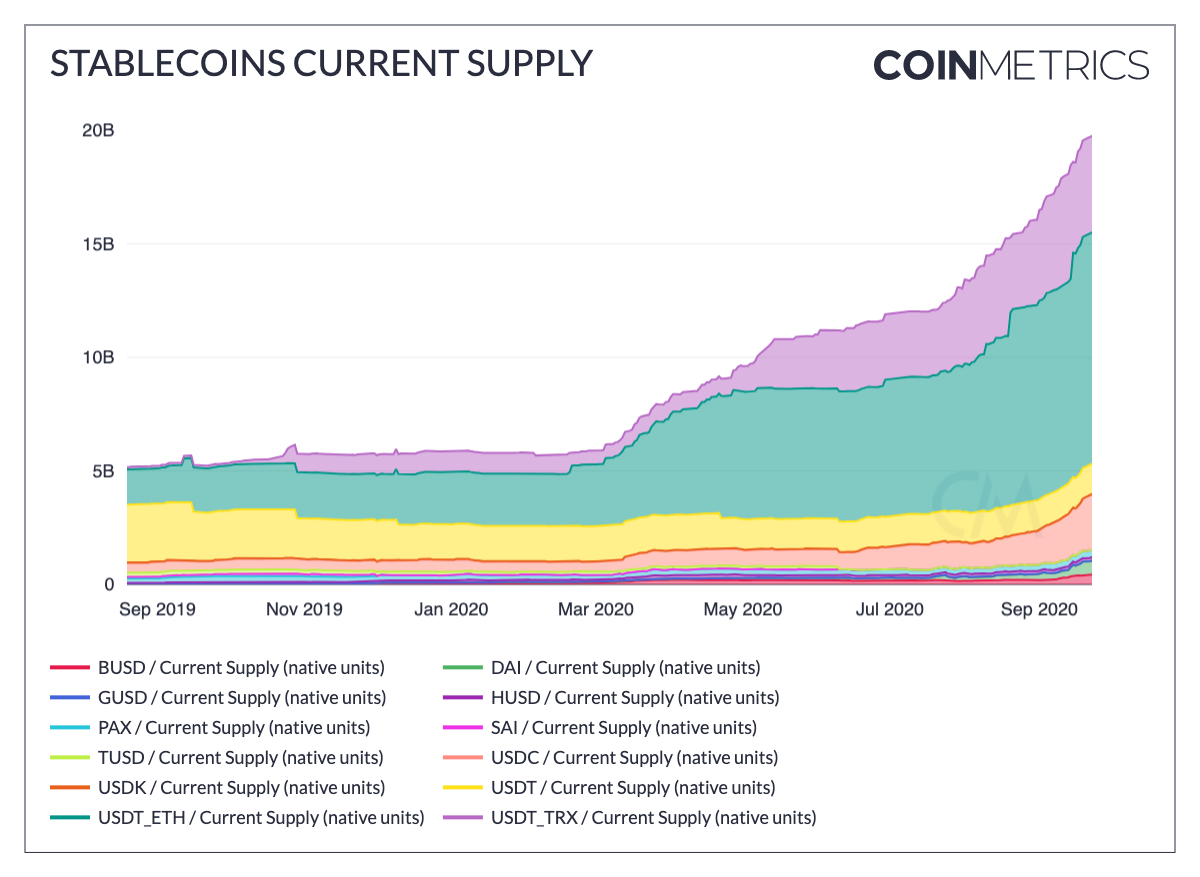 This is it for today! Subscribe to Twice the Value to receive our weekly take on digital assets and stores of value.