Welcome to Twice the Value! (former STO Weekly)
A weekly dive into digital assets and stores of value
The twins are back! After taking a month off to work on our vision, we are relaunching our weekly newsletter covering modern stores of value and digital assets.
Our regular readers remember us as STO Weekly, a digest covering the most relevant news on asset tokenization. You might also be subscribed to our ValueTokenized podcast, where we interview leading experts in this space.
While we still strongly believe that everything will be tokenized eventually, we now see this space as a piece of a much bigger puzzle. That's why we've chosen to expand our focus.
We will continue to report on most relevant tokenization use cases, but from now on we will also be covering DeFi, NFTs, Web3 and other technologies that are shaping the markets of the future.
We believe that our 3+ year experience of assisting tech, crypto and Web3 companies with their content and communication strategies will give you some valuable insights into the future of these industries.
As always, we are open to submissions — feel free to leave any comments or feedback.
Here we go!
DeFinitely dramatic
"Is DeFi the new ICO?". We keep hearing this question a lot these days, since DeFi seems to entail both enormous growth potential and high risk. So is there a definite answer? Not yet, but the biggest DeFi story of September seems to suggest that DeFi is still a Wild, Wild West.
Sadly, all crypto heads know what an 'exit scam' is at this point: someone launches a project, secures investment, and then suddenly takes the money and rides off into the sunset on their newly purchased Lambo. It's happened so many times that we have lost count. Now imagine this plot twist: several days go by, this person comes back and returns all the money.
That's exactly what happened with Chef Nomi, the pseudonymous founder of one of the most popular DeFi projects, liquidity pool platform SushiSwap. After facing serious backlash from the community and seeing the SUSHI token drop from $9.5 to $1.13, Nomi chose to return $13 million to the project's development fund. Will the community ever forgive him?
You can learn more about this DeFi drama in the announcements by CoinDesk, The Block and Tatiana Koffman's Forbes article.
Uniswap Token
Sushiswap's "f*ck up" (in the words of Chef Nomi) and the subsequent drop in rewards for local liquidity providers immediately resulted in Uniswap, its biggest competitor, taking over the lead.
Uniswap's position strengthened even further after it released UNI token this week. Binance and Coinbase Pro listed the asset immediately, while the Ethereum network experienced yet another spike in gas fees due to the increased activity (in fact, the fees became so high that Coinbase Pro decided to pass them directly to their customers).
"If Uniswap is a security, the airdrop was a bad idea"
To celebrate its success and reward liquidity providers, Uniswap airdropped 178 million UNI (worth approximately $600 million) to over 50,000 of their token holders.
While this has caused excitement in the space, some are asking reasonable questions: what if UNI is a security? The SEC is known to go after large crypto projects based on this premise, with Telegram's now-defunct TON project being perhaps the most evident example.
Bruce Fenton, a longtime bitcoin advocate and investor, provided a very comprehensive answer to this question. In short, if UNI is indeed a security, it cannot be sold on most crypto exchanges:
On a similar note, Jor Law, Attorney and advisor to tZero and VerifyInvestor shared a post on Facebook saying:
Howey test on UNI in a single screenshot. Discuss.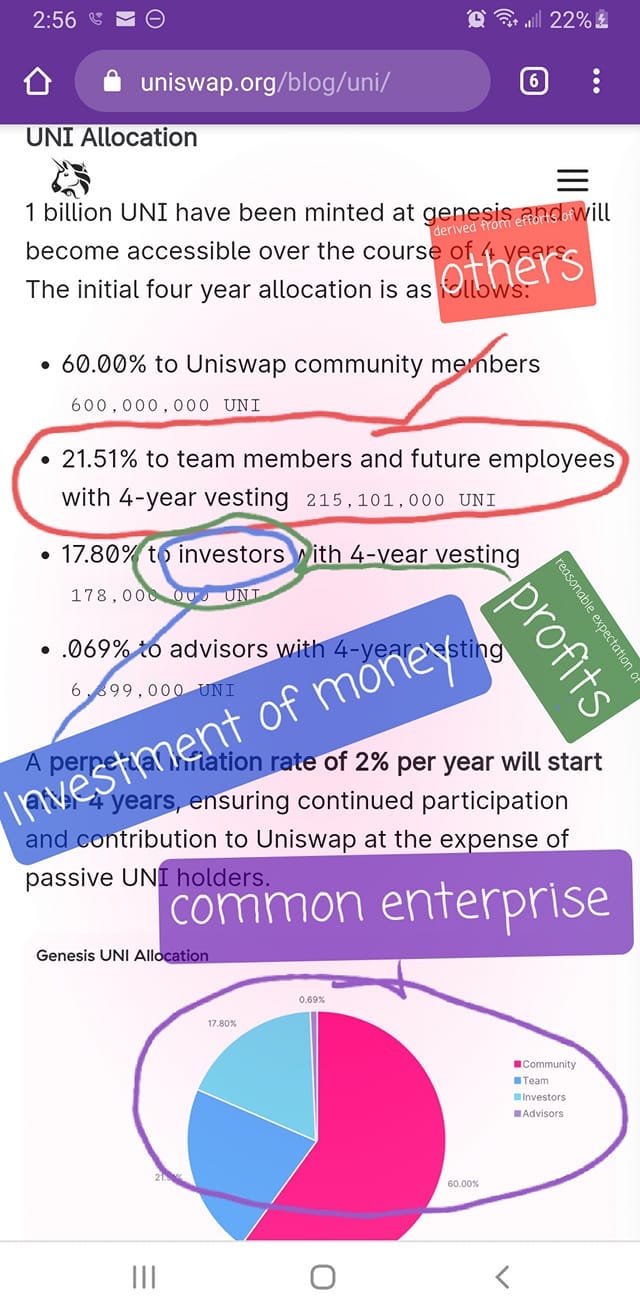 However, since Uniswap is a decentralized exchange with no headquarters, US regulators might have a hard time trying to probe it. 
One whisky on the tokens, please 🥃
Last March Wave Financial created a fund to tokenize whiskey. Last week they announced its first successful investment round and the purchase of 1,000 whiskey barrels. Amazing tokenization use case!
NFT market on a roll
Article Of the Week: the Real Value In Asset Tokenization Platforms Has arrived by Nisa Amoils (Forbes)
In 2019, we all expected an STO boom that however didn't result in an explosive movement like DeFi. The main outcome worldwide interest to security tokenization brought us is an infrastructure layer of primary issuance and trading platforms (check out our "What's up with security tokens" report with an overview of the most significant news and players from last year).
While most of these players still don't have any significant turnovers, it doesn't mean that this infrastructure will go to waste. In this article Nisa Amoils, venture investor and author of WTF Is Happening: Women Tech Founders on the Rise provides an opinion on the real value for existing tokenization platforms.
Thanks for your attention! Got a thought, an idea, feedback?